Here we go, finally I established my blog, or actually "my free space" as I love to call it. 😉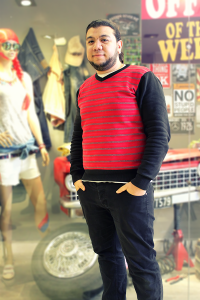 I established this blog in order to publish code related articles, code hints, code workarounds and tips and tricks.
Here's a small brief about me ( not small enough 😀 ).
It's me Said Abdul Aziem Mohamed, a Webmaster Manager at DMG Group. I have a passion for User Experience and Web Development.
Everything I know about UI, UE, CSS, HTML, jQuery, PHP and MySQL was all self taught by looking online and buying books and video tutorials related to UX and Web Development. I have been continuously employed since high school and throughout college, which helped ramp me to my current positions at DMG. I'm also in love with my current position at DMG as Webmaster Manager.
I am discovering that I seriously enjoy user flow, User Experience and Web Development, and would like to transition my career towards this wire-framing and development path.
I love figuring out what makes users tick and click, also I adore developing easy to use and smooth back-ends.
I also am getting serious about my Web Design, so feel free to message me if you would like a web design, psd to html/css or anything else! I would currently like to learn (or get to know better): User Experience Research, SASS, HTML 5, jQuery/jQuery-UI, JavaScript, AJAX, IOS Development. ——-
Interesting Points of Discussion ——-
What's more important? Creating a product to create fantastic metrics? Or creating a product that creates a "good feeling" and a lasting impression?

When should you use tables, and when should you use CSS? Always CSS for presentation, of course! But sometimes divinities will get you down. How do you get around that?

Find me a way to wrap a really long word (like supercalifragilisticexpialidocious) onto the next line of a 20px width div in CSS that works in all browsers. (

?)

When to use CMS, and when to start a "From Scratch" website? Specialties: HTML Markup, CSS, User Experience, User Interface, Photoshop, Photography, Agile, JIRA, PHP, OOP, JavaScript, jQuery, PHP Frameworks.